When you come to Kits sometimes it is hard to tell who is in leadership because so many people are involved in the life of our community.   There are countless people involved in leadership with Sunday School, Youth Group, Worship, and Community Life.  We are grateful for all who contribute their time and gifts to this community!
Monica joined Kitsilano Christian Community in November 2018. This was a "return" to Vancouver after adventuring for 4 years in Thailand, Myanmar, Lebanon, UK, France, and Switzerland. Before this she was spiritually and vocationally formed at a Vancouver eastside church for 13 years. She received her MDiv at Regent College in 2004 and spiritual direction training at the Franciscan International Study Centre (UK, 2017). Her joy comes in connecting people to God and offering spaces for all people to encounter God themselves. She also likes summer cycle trips with her husband, silent retreats, East is East chai, and washing dishes.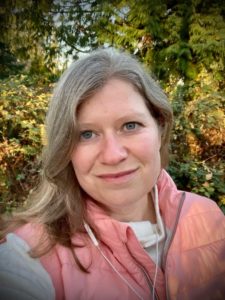 Kelly Dycavinu is a pastor, writer, and life-long learner based in Vancouver, Canada. She holds a BFA in Creative Writing (UBC), an MA in Theological Studies (Regent College), and is
currently working on a second master's in Counselling Psychology (UBC).
Kelly is especially interested in ancient Near Eastern texts, classic literature, Greek mythology, folk and fairy tales, trickster narratives, biblical narratives, and creation accounts. How we view ourselves and others is influenced largely by the stories we hear/see and the stories we tell. The link between story and identity fascinates her.
Whatever the task at hand, Kelly takes an interdisciplinary approach that incorporates artistic practices. She loves to capture one's imagination towards the possibilities and wonders of God's work in the world, to explore all the multi-faceted ways our stories intersect with God's.
She enjoys spending time with her two children and their friends, thrift store shopping for vintage/MCM treasures, listening to Ludovico Einaudi's music, and playing frisbee with Sakona, her two-year-old Aussiedoodle.
Lisi joined Kitsilano Christian Community in summer 2022. She hails from the beautiful BC Interior, and has called Vancouver "home" for several years. She holds a Bachelor of Arts from Columbia Bible College (2014) and a Master of Arts in Religious Studies from the University of British Columbia (2020). She loves studying biblical history, languages, and ancient things found in caves. Just ask her about the Dead Sea Scrolls! Lisi is passionate about bridging the world of biblical scholarship with the life of faith, and encouraging the church in thoughtful and generous faith. She finds great joy in curating meaningful and welcoming services for those who are drawn to the person of Jesus. She also loves cycling, reading, nature, and deep conversations over coffee or tea. 
A social introvert, Nadia can be lured out of doors to tend gardens of both the literal and figurative nature. She is a pastor at heart, but a nerd in thought. Nadia has spent most of her adult life in urban and international ministry, in Canada, the USA and Africa. She loves her family fiercely, always has a stack of books she is reading, believes in the theology of radical welcome and is reimagining faith all the time. 
In regard to official leadership the governing structure of the church involves the Church Council which is comprised of people who oversee various areas of our life together and with the pastoral staff set the vision and direction of the church.  The Deacons look after pastoral care issues and support the church through prayer and practical care. 
Church Council
Moderator: Jenn Milley
Clerk: Hormus Karat
Finance: Nigel Barker
Deacon Rep: Paul Klintworth
Outreach Rep: Kelly Dycavinu
Member at Large: Diane Fulton
Other Key Leaders
Worship Leader Liaison: Mimosa Bryant
Giving Administrator: Victor Ewert
KFC (Kits Food & Connection Team): Nancy Graham & Connie Bird
Prayer Chain: Lee Best